Be One of the Participants in Our Events
There are many opportunities for you to become a participant in Corvettes America
Award Sponsors
Demonstrate your support of Corvettes America - 2023 and achieve maximum exposure for your company by sponsoring awards for the winners of the People's Choice and Judged Show and Shine competitions.
Silent Auction Sponsors
Place your company's name in front of thousands of potential customers by donating items to our Silent Auction or goodie bags. Proceeds from Silent Auction go to Clarkston SCAMP (a five-week program developed and designed for children and young adults with special needs). Web Site: clarkstonscamp.org
Vendor Brochure Advertisements
Give Detroit area Corvette enthusiasts a ready reference to your company by placing an advertisement for your company in the official show brochure. Showcase your products or services to thousands of potential customers.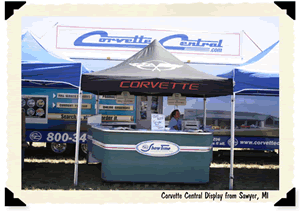 Vendor Space
Participate in Metropolitan Detroit's largest All-Corvette Show on August 12, 2023, at Everest Collegiate High School & Academy, 5935 Clarkston, MI. This show features People's Choice and limited-entry Judged Show and Shine competitions, a classic cars "for sale" lot, a Silent Auction, and much more.
Join America's leading suppliers of Corvette-related products and services in this celebration honoring America's own sports car.
Online Vendor Registration Is Now Open
Vendors may print the registration form and send it by mail
with payment
America's Corvette Club of Michigan
P.O. Box 986 Clarkston, MI. 48347
GET APPLICATION HERE
.pdf format
If you would like to download Adobe Acrobat Reader to open the .pdf file above,
Click Here